Kyunghyun Kim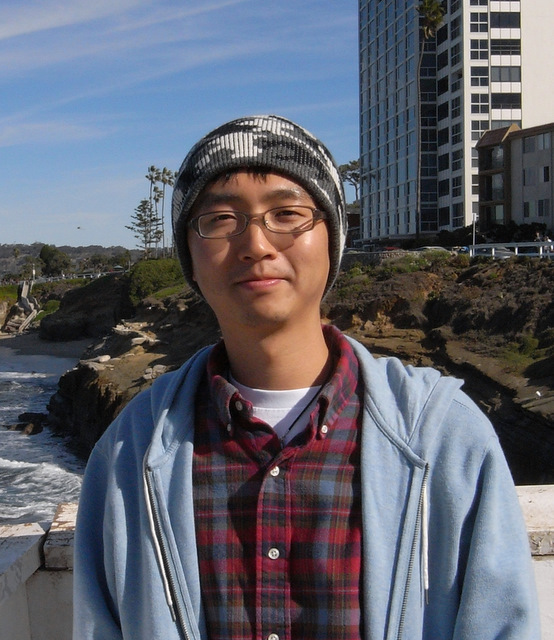 Festina lente!!
Current Research
- MEMS/nanotechnology

- Neuromorphic circuit design / synaptic transistors

- Analog memory devices

- Carbon Nanotube (CNT) based electronic devices

- Nano-scale electronic devices / sensors

Experience
DRAM Design Team, Samsung Electronics, Korea
&nbspSDRAM Circuit Design Engineer, Mar. 2004 ~ Aug. 2008.
Education
University of California, Los Angeles, USA
&nbspPh.D. Candidate in Mechanical and Aerospace Engineering, Aug. 2008-Present
&nbsp&nbsp&nbspThesis Topic: Biologically Inspired Intelligent Circuit Design Based on Carbon Nanotubes
KAIST (Korea Advanced Institute of Science and Technology), Korea
&nbspM.S. in Electrical Engineering, Mar. 2002-Feb. 2004
&nbsp&nbsp&nbspThesis: "Development of a Flexible Capacitive-type Tactile Sensor using PDMS (polydimethylsilane) Membrane"
KAIST (Korea Advanced Institute of Science and Technology), Korea
&nbspB.S. in Electrical Engineering, Mar.1998-Feb. 2002
Publication
JOURNALS
K. Kim, C-L Chen, Q.Truong, A. Shen, and Y. Chen, "A Carbon Nanotube Synapse with Dynamic Logic and Learning", Advanced Materials, 25, 1693-1698 (2013)


B. Cho, K. Kim, C-L Chen, A. Shen, Q. Truong, and Y. Chen, "Nonvolatile analog memory transistor based on carbon nanotubes and C60 molecules", Small, 9, 2283-2287 (2013)


C-L Chen, K. Kim, Q.Truong, A Shen, and Y. Chen, "A Spiking Neuron Circuit Based on A carbon Nanotube Transistor", Nanotechnolgy, 1-6 (2012)


Y. S. Ahn*, K. Kim*, H. K. Park, H. T. Hahn, and Y. Chen, "Functionalized Carbon Nanotube Networks with Field-Tunable Bandgaps ", Advanced Material, 23, 3075-3079 (2011) (* equally contributed authors)


J. Ryu, K. Kim, H. Kim, H. Hahn, and D. Lashmore, "Intense pulsed light induced platinum-gold alloy formation on carbon nanotubes for non-enzymatic glucose detection ", Biosensors and Bioelectronics, 26, 602-607 (2010)


CONFERENCES
C. -L. Chen,K. Kim, . Truong, A. Shen, Z. Li, and Y. Chen, "Hydrogen Doped Carbon Nanotube Transistor for Biological Neuron Circuit Applications", MRS Fall Meeting , Poster in Carbon Nanomaterials session (2012)


K. Kim, C. -L. Chen, Y. S. Ahn, and Y. Chen, "Functionalized Carbon Nanotube Transistors with In Situ Field-Tunable Bandgaps", MRS Fall Meeting , Presentation in Functional Nanowires & Nanotubes session, (2011)


K. Kim, C. -L. Chen, Y. S. Ahn, and Y. Chen, "Nonvolatile CNT Network Devices for Analog Memory Applications", MRS Fall Meeting , Poster in Functional Nanowires & Nanotubes session, (2011)


H.K. Lee, S.I. Chang, K. Kim, S.J. Kim, K.S. Yun,. and E. Yoon, "A modular expandable tactile sensor using flexible polymer", IEEE International Conference on. MEMS (2005)


K. S. Yun, J. Gil, J. Kim, H. J. Kim, K. Kim, D. Park, J. Y. Kwak, H. Shin, K. Lee, J. Kwak, and E. Yoon, "A miniaturized low-power wireless remote environmental monitoring system using microfabricated electrochemical sensing electrodes", Transducers (2003)


Patent
K. Kim, Y. Moon, (2008), "Decision feedback equalizer (DFE) circuits for use in a semiconductor memory device and initializing method thereof", US Patent Application: US 2009/0175328, filed Oct. 30, 2008, Republic of Korea Patent Application: 10-2007-0109939, filed Oct. 31, 2007, Patent Pending


K. Kim, K. -I. Park, I. Jeong, (2008), "Memory devices and systems including error-correction coding and methods of for error-correction coding", US Patent Application: US 2008/0307285, filed Jun. 4, 2008, Republic of Korea Patent Application: 10-2007-0056114, filed Jun. 8, 2007, Patent Pending


K. Kim, (2007), "Cyclic redundancy check code generating circuit, semiconductor memory device, and method of driving semiconductor memory device", US Patent Application: US 2008/0163036, filed Dec. 18, 2007, Republic of Korea Patent Application: 10-2006-0136566, filed Dec. 28, 2006, Patent Pending


K. Kim, J. -W. Lee, (2006), "Semiconductor memory device", US Patent No.: US 7,362,635, filed Aug. 4, 2006, and issued Apr. 22, 2008, Republic of Korea Patent No.: 10-2007-0077711, filed Jan. 24, 2006, and issued Jul. 27, 2007


Contact Information
44-116C Engineering IV
420 Westwood Plaza
Los Angeles, CA 90095
Phone: 310-267-4340
Email: kh12kim@ucla.edu