Eric Schopf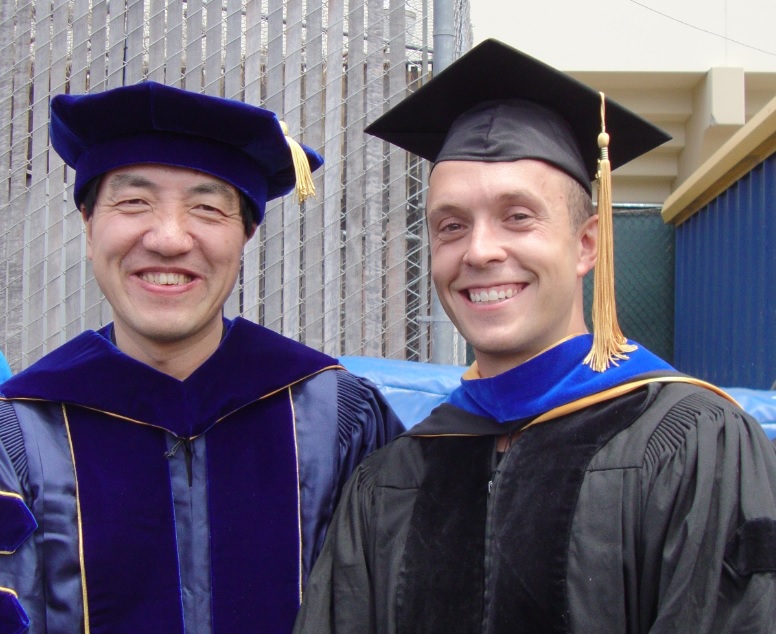 Bio
I enjoy guitar, karaoke, golf, skiing, tailgating, football, and many other nouns.
I grew up and spent my childhood (10 years) in Alameda, California, before my family moved to Santiago, Chile. I spent 5 years in Chile, making friends who, thanks to Facebook, I have reconnected with and seen after many years. I also learned Spanish, traveled around the country a great deal, and had a lot of fun. Our return to the US took us to Denver, where I spent the rest of my high school days. I then was accepted to UCLA and made a triumphant return to California.
Facts: I've been to 5 continents. I have played guitar since 1997. Some have called me a modern day renaissance man. At one point I was proficient at playing the trumpet, however, it is not an instrument conducive to appartment living. The lowest golf round I've shot was an 81. The number of golf balls I have hit over the back fence at the Rancho Park driving range is much greater than the number of golf balls you get with one range token (so are the ones that I have hit over the side fences). I enjoy Mexican food (King Taco) and Mexican beers, and being in Mexico.
Education
University of California, Los Angeles, December 2009.
Ph. D. Mechanical Engineering, Focus: Nanotechnology
Thesis: A Versatile Method using Rolling Circle Amplification for Genomic DNA Detection
University of California, Los Angeles
B.S. Physics, 2005
Current Research
My primary focus was sensitive DNA detection using Rolling Circle Amplification. RCA is a technique that extends a DNA molecule in size, from perhaps 30 or 50 bases in length to well over 10,000 bases in length. The purpose for using RCA is to greatly increase the signal-to-noise ratio, enabling "binary counting" of detection events due to clustering of fluorescent reporting probes.
Tuberculosis is a worldwide bacterial disease that affects millions of people, primarily in developing countries. Current diagnostic approaches are limited by low sensitivities, equipment and setup costs, and the time required for diagnosis. I addressed developing-world tuberculosis diagnostic needs by developing a PCR-free tuberculosis DNA detection assay, where we demonstrated clinically relevant detection sensitivity and specificity.
I was also involved in many collaborative projects with Prof. Heather Maynard's group, where we patterned functionalized PEG molecules via electron beam lithography. E-beam lithography allows for not only high resolution structures in any shape, but the nature of PEG crosslinking allows it to be crosslinked to itself, allowing for layer-on-layer patterning. These functional groups can be modified to perform various tasks, from binding carbon nanotubes to attaching modified proteins.
Work Experience
Graduate Student Researcher, Fall 2005 - Present. Prof. Chen Research Group, UCLA MAE Dept. Trained in standard clean room fabrication techniques with 2+ full years of experience at UCLA's Nanolab. Extensive experience with electron beam writing and imaging, atomic force microscopy, and traditional lithography processes. From the biochemistry side, experience with PCR, RCA, restriction enzyme digests, fluorescent/confocal microscopes, and numerous other standard biochemical techniques.



Internship at LLNL, August 2007 - March 2008. I worked at the Lawrence Livermore National Laboratory in lovely Livermore, California, under the excellent supervision of Dr. Jeff Tok and Dr. Nicholas Fischer where I learned many fundamental techniques in biochemistry, including, but not limited to, Rolling Circle Amplification. I am very much indebted to them for the knowledge they shared with me!



Undergraduate Student Researcher, January 2004 - June 2005. I worked for the Particle Beam Physics Lab as an undergraduate, where I designed a LabView program to control movement of stepper motors in conjunction with a Hall probe to map the spatial variation of magnetic fields. I also gained experience with machine shop tools, learned how to handle parts going into ultra high vacuum, and assembled and tested extremely strong magnet setups used to deflect electron beams.
Teaching and training Experience
Guest Lecturer, Spring Quarter, 2009.
University of California, Los Angeles.
Nanoscale Fabrication, Characterization and Biodetection Laboratory (MAE C287L)
Prepared two lectures to undergraduate and graduate students.
Lectured on methods of biodetection, as well as bioconjugation for nanotechnology purposes.
Teaching Assistant, Spring Quarters, 2006-2009.
University of California, Los Angeles.
Nanoscale Fabrication, Characterization and Biodetection Laboratory (MAE C287L)
Instructed students in a variety of hands-on nanotechnology laboratory processes, ranging from electron beam lithography and atomic force microscopy to bioconjugation and detection.
Graded lab reports and provided feedback to the instructor.
Qualified Trainer, June 2006 – November 2009.
University of California, Los Angeles.
JEOL 5910 Electron beam lithography system.
Trained and qualified over 30 students and staff the proper use of the machine.
Performed maintenance on the machine, including replacing filaments.
Publications
K. Christman, R. Broyer, E. Schopf, C. Kolodziej, Y. Chen, H. Maynard. "Protein Nanopatterns by Oxime Bond Formation." Langmuir, 27, 1415-1418 (2011).



E. Schopf, Y. Liu, J. Deng, S. Yang, G. Cheng, Y. Chen. "Mycobacterium tuberculosis Detection via Rolling Circle Amplification." Analytical Methods, 3, 267-273 (2011).



R. Broyer, E. Schopf, C. Kolodziej, Y. Chen, H. Maynard. "Dual Click reactions to micropattern proteins." Soft Matter, 7, 9972-9977 (2011).



E. Schopf, Y. Chen. "Attomole DNA detection assay via rolling circle amplification and single molecule detection." Analytical Biochemistry, 397, 115-117 (2010).



E. Schopf, R. Broyer, L. Tao, Y. Chen, H. Maynard. "Directed Carbon Nanotube Assembly Using a Pyrene Functionalized Polymer." Chemical Communications, 32, 4818-4820 (2009). Link. PDF copy.



K. Christman, E. Schopf, R. Broyer, R. Li, Y. Chen & H. Maynard. "Nanoscale Assembly of Multilayer Multicomponent Protein Patterns by Electron Beam Lithography." Journal of the American Chemical Society, 131 (2), 521-527 (2009). Link. PDF copy.



K. Christman, V. Vazquez-Dorbatt, E. Schopf, C. Kolodziej, R. Li, R. Broyer, Y. Chen & H. Maynard. "Nanoscale Patterns of VEGF and bFGF Using Electron Beam Lithography and a Heparin Mimicking Polymer." Journal of the American Chemical Society, 130 (49), 16585–16591 (2008). Link. PDF copy.



E. Schopf, N.O. Fischer, Y. Chen & J.B.-H. Tok. "Sensitive and Selective Viral DNA Detection Assay via Microbead-Based Rolling Circle Amplification." Bioorganic & Medicinal Chemistry Letters, 18, 587-5874 (2008). Link. PDF copy.



S. Huang, E. Schopf & Y. Chen. "Dynamically configurable Biomolecular nanoarrays." Nano Letters, 7, 3116-3121 (2007). Link. PDF copy.



P.M. Mendes, K.L. Christman, P. Parthasarathy, E. Schopf, J. Ouyang, Y. Yang, J.A. Preece, H.D. Maynard, Y. Chen & J.F. Stoddart. "Electrochemically controllable conjugation of proteins on surfaces." Bioconjugate Chemistry, 18, 1919-1923 (2007). Link. PDF copy.



Puru Parthasarathy, Paula M. Mendes, Eric Schopf, Jon A. Preece, J. Fraser Stoddart, and Yong Chen. "Spatially Controlled Assembly of Nanomaterials at the Nanoscale." Journal of Nanoscience and Nanotechnology, 8, 1-5, (2008). PDF copy.


Relevant Coursework
Undergraduate Studies
Statistical Mechanics
Quantum Mechanics
Electrodynamics
Particle Beam Physics
Solid State Physics
Graduate Studies
Microelectrical and Mechanical System (MEMS) Design
MEMS Device Physics
Microscience
Nanoscience and Technology
Material Science of Surfaces
Bionanotechnology
Molecular Biotechnology
Biopolymer Chemistry and Bioconjugates
Physics of Molecular Motors
Students Mentored
SiyinYang - June 2009 - September 2009. (Summer Internship in Doctor Chen's Lab)
Project: Software counting of amplified target molecules on beads.
David Carroll - Spring, 2009 - June 2009. (SINAM Program)
Project: Soft lithography molds for single microbead trapping and imaging.
Micol Marchetti-Bowick - Summer, 2008. (CNSI NanoCER Program)
Project: Rolling circle amplification on selected electrodes.
Alex Shen - Spring-Summer, 2007. (SINAM Program)
Project: Aligned nanoscale electrode fabrication via electron-beam lithography.
Awards and Honors
CNSI 2005-2006 Graduate Student Fellowship Recipient
Conferences, Meetings, et al.
In March of 2009, I attended the US-Argentina Workshop on Nanomaterials (held in Bariloche, Argentina) with Prof. Maynard, where I had this poster on display.
In March of 2008, I attended the Pacific Southwest Regional Center of Excellence conference (held in Los Angeles) for biodefense and emerging infectious diseases research with Prof. Chen and Dr. Jeff Tok, where I had this poster on display.
Contact Information
44-116C Engineering IV
420 Westwood Plaza
Los Angeles, CA 90095
Phone: 310-267-4340
Email: eschopf@ucla.edu